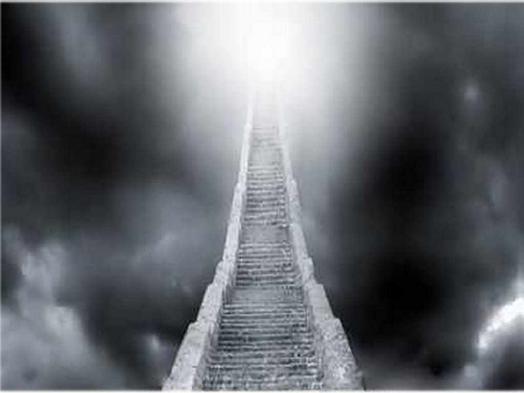 STAIRWAY TO HEAVEN - One-man show.
STAIRWAY TO HEAVEN
Democrat & Chronicle 1999 review on James D. Watkins' one-man performance/show: "He doesn't need to hire any actors or models at all....just him on the stage...this is an acting tour de' force"
Wolfgand Amadeus Mozart's REQUIEM plays as his life leaves his grasps. Thus, the beginning of STAIRWAY TO HEAVEN starts.
Performing an one-man or one-person show can be difficult. It's just you. No one to reflect and act off. Just you. Though, as an actor, at least you know the 'other' actors lines and how that 'other' actor is going to act and re-act to your dialogue. STAIRWAY TO HEAVEN is one such show. I created and wrote this intimate piece to see and push my skills and abilities as an actor. It's about the worthinness of mankind to reach the stairs of Heaven. Questions arise such as; if mankind is worthy then how worthy are they? Does God see and know all? Is the structure and design of life itself just a high-tech and spiritual or supernatural game? In STAIRWAY TO HEAVEN I will embody the frailties of man, the omnipotence of God and the evil of Lucifer. This is an one-man show/play. STAIRWAY TO HEAVEN is created, written and performed by I, James D. Watkins and it is produced by ODYSSEY WORKS, ECLIPSE ENTERPRISES, PHOENIX PRODUCTIONS & PHOENIX PLAYGROUND THEATRE. The music used is from Ludwig Van Beethoven's Symphony #7 and Wolfgang Amadeus Mozart's REQUIEM.
COMING SOON..........